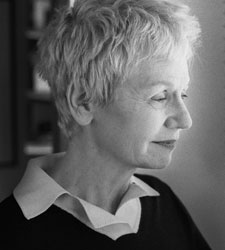 click on photo to download high-res version
© Ed Alcock, please credit any use of photography

for full front portrait click here to download hi-res jpeg, © Ken Aptekar


Eunice Lipton was born in the Bronx, is a fervent New Yorker, but lives most of the year in Paris. She writes memoir, cultural history and fiction as well as art and literary journalism. Lipton has a Ph.D. in art history, though she's no snob. In Looking Into Degas, it was the artist's ironers, milliners and prostitutes that intrigued her. In Alias Olympia, she imagined the life of a 19th century artist's model as well as her own mother's 9-5 shifts at Woolworth's. Almost behind her back, Lipton began to write about Jewish culture, yet for decades avoided the subject of France and Jews. Until she wrote French Seduction: An American's Encounter with France, her Father and the Holocaust. In her latest book, A Distant Hearbeat, she takes an unexpected turn and writes what amounts to a political ghost story. Spanning 75 years, from the tumultuous days of the Spanish Civil War and New York in the 1930s to the present, it explores the power of words and of memories to uncover buried secrets, reconstruct lost legacies, and even, perhaps, resurrect the dead. Lipton has published essays and reviews in The New York Times Book Review, The Nation, The Guardian, The Forward, Tikkun, zeek.forward.com, The Women's Review of Books, Art in America and more. Lipton lives with the artist Ken Aptekar.